What Teacher's Need to Know About Attention-Deficit/Hyperactivity Disorder (ADHD)
By [posts-author-link] on [date]
August 11, 2017





Rate this resource
LINK TO RESOURCE: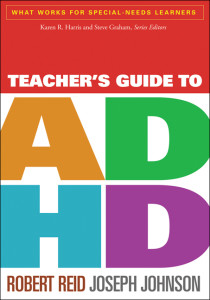 Written specifically for teachers, this guide provides practical, evidence-based tools to help students with Attention-Deficit/Hyperactivity Disorder (ADHD) experience academic success. Learn how to identify symptoms of attention difficulties in students, tools for assessing difficulties with attention and concentration in the classroom, and how ADHD is diagnosed. Readers will also gain specific strategies and techniques that can be implemented in the classroom to support students with ADHD. Core skill areas addressed include: organization and study skills, self-regulation, social skills, as well as information about commonly prescribed medications and tips for educators about developing collaborative working relationships with parents.
Robert Reid, PhD, is Professor in the Department of Special Education and Communication Disorders at the University of Nebraska–Lincoln. Joseph Johnson, PhD, is Assistant Professor in the Department of Educational Studies at the University of Wisconsin–La Crosse.
Reid, R. & Johnson, J. (2011). Teacher's guide to ADHD. New York: Guilford.
Related Resources
In their book "Answers to Distraction," acclaimed ADHD experts Dr. Edward Hallowell and Dr. John…

Learn essential life tips and strategies for managing Attention-Deficity/Hyperactivity disorder (ADHD) from one of the…

When Something's Wrong: Strategies for Teachers is a 56-page resource booklet published in 2007 by…
Read More | [comments]