A useful book on implementing SEL in grades K to 12
By [posts-author-link] on [date]
July 13, 2015





Rate this resource
LINK TO RESOURCE:
Social and Emotional Learning in the Classroom: Promoting Mental Health and Academic Success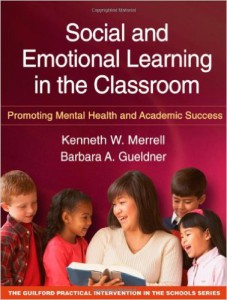 Social and Emotional Learning in the Classroom, authored by K.W. Merrell and B.A. Gueldner, offers comprehensive yet practical information for implementing SEL in grades K to 12. Published in 2010 as part of Guilford's Practical Intervention in Schools Series, this book provides clear, objective guidance on a variety of issues to consider when implementing SEL in schools, including chapters on how to choose the right SEL program, integrate SEL into the curriculum, adapt SEL interventions to serve diverse learning needs, assess and evaluate SEL interventions. Reproducibles (such as checklists, forms, and worksheets) are provided throughout. Peppered throughout throughout the book are vignettes and practical examples of how SEL can support the mental health, academic performance, and mental well-being, among other positive student outcomes.
Citation: Merrell, K. W., & Gueldner, B. A. (2010). Social and emotional learning in the classroom: Promoting mental health and academic success. New York: Guilford Press.
Related Resources
This emotions color wheel presents a fun, interactive way to learn about emotions, and is…

Published in 2003, this book suggests that combining emotional intelligence (EQ) with academic intelligence (IQ)…

Published in 1998, this book serves as a guide to teaching children to understand and…
Read More | [comments]