Activities to Recognize, Control and Utilize Anger
By [posts-author-link] on [date]
January 11, 2016





Rate this resource
LINK TO RESOURCE:
A Volcano in My Tummy: Helping Children to Handle Anger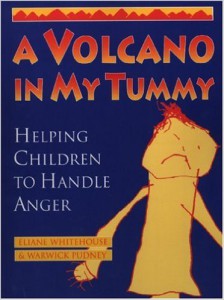 Published in 1996, this resource book for teachers, parents, and caregivers is about living successfully, non-violently, without fear and with good relationships. Goals of this book include awareness of anger, distinguishing between emotions and behaviour, learning alternatives to physical and verbal violence, and to take advantage of anger as a motivator for change.
Included are key concepts around anger, activities, stories, articles, and games designed for schools and community groups, or to be adapted for home use.
Whitehouse, E., Pudney, W. (1996). A volcano in my tummy: Helping children to handle anger. Gabriola Island, CA: New Society Publishers.
Related Resources
Published in 2003, this book describes the process of life-enriching education, with a goal of…

This book aims to create an atmosphere at home and school in which children and…

A simply and beautifully illustrated children's picture book, "One" is a story about bullying that…
Read More | [comments]