An Exploration of Cultural Diversity through Art
By [posts-author-link] on [date]
January 9, 2016





Rate this resource
LINK TO RESOURCE:
We Are All Related: A Celebration of Our Cultural Heritage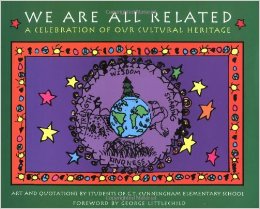 Published in 1996, this book is a collection of art accompanied by written commentary, created by a Canadian, cross-cultural group of 8- to 12-year-old students from diverse backgrounds. It was created in an effort to break down stereotypes and foster understanding between groups through work which speaks to identity, culture, and community.
The artistic techniques include photography, collages, drawings, paintings and more, as students share their cultural history, symbols, and values through these mediums.
Littlechild, G. (1996). We are all related. Vancouver, CA: George T. Cunningham Elementary School.
Related Resources
This 7-minute video presents the Development of Intelligence Through Art (DIA) Program, a program where…

A charming, brightly illustrated children's picture book, authored by Phillip M. Hoose & Hannah Hoose…

In this 2011, illustrated book, children explore the meaning of mindfulness and achieving "true happiness"…
Read More | [comments]