A practical guide for discipline: "School Discipline and Self-Discipline" book
By [posts-author-link] on [date]
May 19, 2019





Rate this resource
LINK TO RESOURCE:
School Discipline and Self-Discipline: A Practical Guide to Promoting Prosocial Student Behavior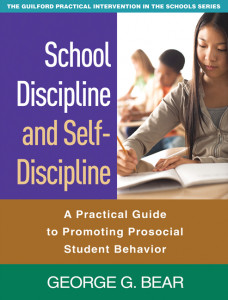 The book "School Discipline and Self-Discipline" by Dr. George Bear breaks down the concepts of Social and Emotional Learning (SEL) and Positive Behaviour Support (PBS), and explains how these ideas can work together to improve students' self-management and behaviour in the classroom. Presenting strategies and practical approaches, Dr. Bear outlines step-by-step how to develop SEL competencies, implement guidelines, address problems, and also when and how to contact parents of students with behavioural issues.
Dr. Bear is a professor in the School of Education at the University of Delaware whose research focuses on school climate, school discipline, and self-discipline. In addition, Dr. Bear worked as a school psychologist in Iowa, Virginia, and Delaware and authored five books about discipline and schools.
Related Resources
This book aims to create an atmosphere at home and school in which children and…

Written by Levin, Nolan, Kerr, Elliot, and Bajovic, the Fourth Canadian Edition of this book…

The Angry Octopus is a fun children's book that tells the story of a sea…
Read More | [comments]