Promote students' compassion and respect: "Educating for Character" book
By [posts-author-link] on [date]
May 19, 2019





Rate this resource
LINK TO RESOURCE:
Educating for Character: How Our Schools Can Teach Respect and Responsibility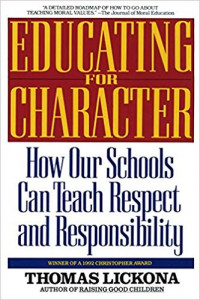 Dr. Thomas Lickona's book "Educating for Character" presents a 12-point program to teach students about respect and responsibility in every environment from the classroom to the school bus. This book outlines tangible strategies designed to develop compassion, hard work, and other values in students – and also explains how to collaborate with teachers, parents, and communities to foster positive character development in students.
Called "the father of modern character education", Dr. Lickona is a developmental psychologist, professor, and educator who has received awards for his work in teacher and parent education. He has also authored several other books on character education, including "How to Raise Kind Kids", "Character Matters", and "Sex, Love, and You".
Related Resources
Published in 1996, this book emphasizes the necessity of imparting caring attitudes and teaching caring…

Published originally in 1987, this book outlines how different goal structures - competitive, individualistic, and…

The Fetzer Institute (Michigan, USA) is an organization dedicated to improving the human condition through…
Read More | [comments]