Strategies for Students to Foster Friendships
By [posts-author-link] on [date]
February 7, 2016





Rate this resource
LINK TO RESOURCE:
Making Friends: A Guide to Getting Along with People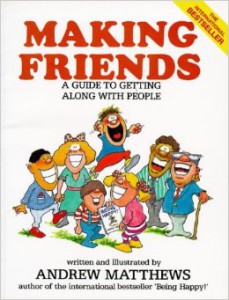 Published in 1991, this book aims includes ideas and strategies for fostering positive relationships, with the primary message that if you want friendship, you must be a friend first.
The author outlines elements of making friends such as prevailing over gossip, pettiness and anger, judging others, treating others with respect, expressing anger, and how to say "no" sometimes. Throughout the book are illustrations and comic strips that supports the discussion of these points.
Matthews, A. (1991). Making Friends: A guide to getting along with people. New York, NY: Price Stern Sloan, Inc.
Related Resources
Published in 2003, this book describes the process of life-enriching education, with a goal of…

A simply and beautifully illustrated children's picture book, "One" is a story about bullying that…

Published in 1998, this book serves as a guide to teaching children to understand and…
Read More | [comments]