Transform Anger into Connections Through Non-violent Communication
By [posts-author-link] on [date]
February 7, 2016





Rate this resource
LINK TO RESOURCE:
What's Making You Angry? 10 Steps to Transforming Anger So Everyone Wins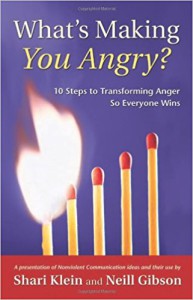 This 2005 booklet offers the reader an approach to anger management called Non-Violent Communication™ (NVC). It outlines a process of focusing on what we really want and need, rather than getting caught up in images of others being wrong, helping the reader transform anger into compassionate connection, healthier communication, and life-saving actions.
Written for those dealing with their own anger, or working in anger management counselling or teaching positions, the ten steps outlined within explore topics such as transforming anger into a tool for action and connection, recognizing unmet needs that are the root of anger, and learning to create outcomes that are satisfying for everyone involved.
Klein, S., & Gibson, N. (2005). What's making you angry? 10 steps to transforming anger so everyone wins. Albuquerque, NM: PuddleDancer Press.
Related Resources
Published in 2005, this book aims to challenge the reader that anger can be used…

Written by Levin, Nolan, Kerr, Elliot, and Bajovic, the Fourth Canadian Edition of this book…

Published in 2010, Getting the Buggers to Behave provides practical ideas and equips teachers with…
Read More | [comments]