A Youth-Specific Assertiveness Model
By [posts-author-link] on [date]
January 9, 2016





Rate this resource
LINK TO RESOURCE:
Safe Teen: Powerful Alternatives to Violence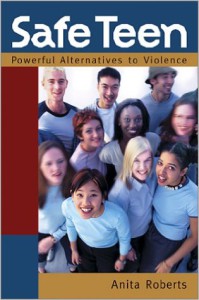 Safeteen is an assertiveness training program designed to promote youth empowerment and safety in schools. Published in 2001, this book includes a breakdown of the skills that are taught within the Safeteen programs, and the issues which underscore the work. Included are contemporary scenarios of teen interactions in real-life situations.
The book includes four sections: Heart, which provides a youth-specific assertiveness model; Mind, which explores the conditioning that informs destructive gender-based patterns of behaviour for males and females; Spirit, which exposes gender power issues; Body: Role-play and skills to address everyday relationship violence and intimacy issues.
Roberts, A. (2001). Safe teen: Powerful alternatives to violence. Vancouver, CA: Polestar.
Related Resources
In this 2011, illustrated book, children explore the meaning of mindfulness and achieving "true happiness"…

Published originally in 1987, this book outlines how different goal structures - competitive, individualistic, and…
Read More | [comments]