Helping Young People Learn Self-Regulation
By [posts-author-link] on [date]
February 7, 2016





Rate this resource
LINK TO RESOURCE:
Helping Young People Learn Self-Regulation: Lessons, Activities & Worksheets for Teaching the Essentials of Responsible Decision-Making & Self-Control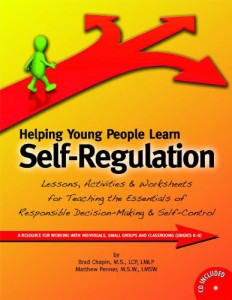 Published in 2008, this book is designed to address children's anger problems, academic performance challenges, and anxieties, as well as school safety issues, self-esteem, and more. The self-regulation training process is divided into three functional areas — physical, emotional, and cognitive — progressively moving children through skill areas in these three domains. Aimed at educators working with individuals, small groups, and classrooms from grades K-8, this resource includes individual strategies presented in step-by-step processes using lessons, activities, and reproducible worksheets. There is also a problem/strategy matrix tool to find strategies to target specific problem areas, and a companion CD.
Chapin, B., & Penner, M. (2012). Helping young people learn self-regulation: Lessons, activities & worksheets for teaching the essentials of responsible decision-making & self-control. Chapin, SC: Youthlight Inc.
Related Resources
Supporting refugee children: Strategies for educators, written by Jan Stewart (2011), Associate professor in the…

This online toolkit is designed to help schools and educators incorporate and assess self-regulation in…

The Human Early Learning Partnership (British Columbia, Canada) is a collaborative, interdisciplinary research network based…
Read More | [comments]