Insights into Mental States and Behaviour across Development
By [posts-author-link] on [date]
January 11, 2016





Rate this resource
LINK TO RESOURCE:
Social Cognition: Development, Neuroscience, and Autism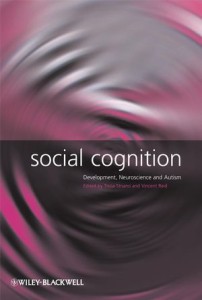 Published in 2009, this book is a collaborative and interdisciplinary investigation of early social cognition from developmental psychology and developmental cognitive neuroscience perspectives.
This book outlines current understandings on the ability to predict, monitor, and interpret the behaviours and mental states of other people, particularly during infancy, in children, and during adolescence. It also discusses the unique challenges that autism presents.
Striano, T., Reid, V. (2008). Social cognition: Development, neuroscience, and autism. Malden, MA: Wiley-Blackwell.
Related Resources
This link leads to a PowerPoint presentation by Dr. Nadine Kaslow on Suicidal Behavior in…

This series of videos with Dr. Gordon Neufield, developmental psychologist and leading member of the…

The following link on ADD/ADHD is part of a larger online resource provided by Helpguide.…
Read More | [comments]