What You Need to Know about Medication and Mental Health Treatment
By [posts-author-link] on [date]
August 11, 2017





Rate this resource
LINK TO RESOURCE:
Straight Talk About Psychiatric Medications for Kids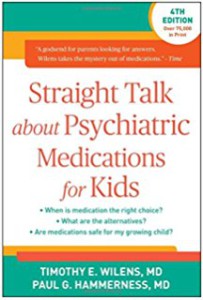 A useful resource for teachers and parents, leading child psychiatrists Dr. Timothy Wilens and Dr. Paul Hammerness provide answers to your tough questions about medications for children experiencing mental health problems. With chapters covering each of the common childhood mental health disorders, and the recommended treatments for each, this authors explain how psychiatric medications work, how they affect children's social, emotional, and academic performance, and how to weigh the pros and cons of different treatment options. This book is a useful reference for teacher's wanting to know more about psychiatric medications and the role they can play in supporting student's mental health.
Timothy E. Wilens, MD, is Associate Professor of Psychiatry at Harvard Medical School and Chief of the Division of Child and Adolescent Psychiatry at Massachusetts General Hospital. Paul G. Hammerness, MD, is Assistant Professor of Psychiatry at Harvard Medical School and Medical Director of Outpatient Psychiatry at Boston Children's Hospital.
Wilens, T. & Hammerness, P. (2016). Straight talk about psychiatric medications for kids. New York: Guilford.
Related Resources
Teen Mental Health is a comprehensive website devoted to enhancing youth mental health by making…

The Minnesota Association for Children's Mental Health (MACMH) is a non-profit organization devoted to advancing…

The HereToHelp project was established in 2003 by the BC Partners for Mental Health and…
Read More | [comments]