Promoting Child Well-being in Schools
By [posts-author-link] on [date]
August 1, 2017





Rate this resource
LINK TO RESOURCE:
Transforming School Mental Health Services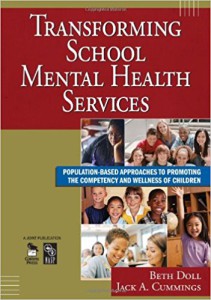 This volume edited by Dr. Beth Doll, Professor at the University of Nebraska-Lincoln, and Dr. Jack Cummings, Professor Emeritus at Indiana University, is the result of over 5 years of study, reflection and dialogue by several task forces appointed by the National Association of School Psychologists (NASP) in the U.S. to identify key goals and priorities to guide the provision of school services that promote children's mental and physical well-being. The result is a comprehensive guidebook that describes a population-based model of school mental health services, and illustrates how to apply this model to the prevention and intervention of mental health issues among students. Strategies are provided that address mental health services for individual students, classrooms, and the whole school, including suggestions for involving parents in school well-being initiatives. This model provides educators with a detailed framework for supporting all students, including those most at-risk for developing mental health problems.
Doll, B. & Cummings, J. (Eds.) (2007). Transforming school mental health services. Thousand Oaks: Corwin Press.
Related Resources
School Mental Health-ASSIST (SMH ASSIST) is a support team designed to aid Ontario's 72 school…

Teen Mental Health is a comprehensive website devoted to enhancing youth mental health by making…

This report, published in April 2013 by the Social Research and Demonstration Corporation (SRDC), provides…
Read More | [comments]