"The New Social Story Book" helps children with autism learn social skills
By [posts-author-link] on [date]
May 19, 2019





Rate this resource
LINK TO RESOURCE:
The New Social Story Book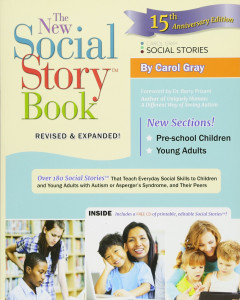 Author and educator Carol Gray describes 'Social Stories', a strategy used to help children with autism spectrum disorders (ASD), in her book "The New Social Story Book". Her approach to teaching children with ASD about social situations is accessible and easy to understand. These methods teach children the social skills they need in order to be successful at home, at school, and in the community.
Carol Gray is president of The Gray Center for Social Learning and Understanding in Michigan and has 30 years of experience as a teacher and consultant working with children and adults with ASD. Gray has received several awards for her international contributions to communities of people living with ASD.
Related Resources
Let's Talk Emotions is a book by Dr. Teresa A. Cardon, a Behavior Analyst and…

The Center on the Social and Emotional Foundations for Early Learning (CSEFEL), developed at Vanderbilt…

"Two", written by award winning author Kathryn Otoshi, is a beautifully simple, character-building children's picture…
Read More | [comments]