A book for understanding and addressing bullying in schools
By [posts-author-link] on [date]
July 13, 2015





Rate this resource
LINK TO RESOURCE:
Bullying Prevention and Intervention: Realistic strategies for schools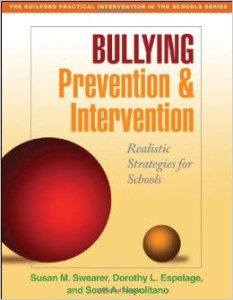 Bullying Prevention and Intervention, authored by Swearer, Espelage, and Napolitano, offers research-based information and practical strategies for dealing with bullying in schools. Published in 2009, the book is organized into nine chapters, beginning with a comprehensive understanding of the bullying phenomenon and a description of bullying patterns across grades. Considering the socio-ecological nature of bullying, the authors consider bullying as a relationship problem and provide realistic suggestions that involve school staff, parents, peers and the community in addressing the problem.
Concrete steps for developing, choosing and implementing anti-bullying interventions and policies are provided, and the authors address legal issues regarding bullying for school personnel (applicable to the U.S.), and the impact of technology. Of particular interest is a chapter on how schools can leverage the resources they already have on hand in their anti-bullying efforts, including collecting and analyzing data on school climate to inform strategies for enhancing social relationships within the school.
A detailed process for evaluating anti-bullying efforts in schools is offered in the last chapter. Reproducible handouts, such as evaluation forms, activity worksheets, and even a bullying book list are provided.
Citation: Swearer, S. M., Espelage, D. L., & Napolitano, S. A. (2009). Bullying prevention and intervention: Realistic strategies for schools. New York: Guilford Press.
Related Resources
A simply and beautifully illustrated children's picture book, "One" is a story about bullying that…

The Accredited Schools Online Bullying Awareness Guidebook brings awareness to different types of bullying and…

The Anti-Bullying Handbook, written by Dr. Keith Sullivan in New Zealand, provides a comprehensive overview…
Read More | [comments]