A How-To Manual of Mindfulness Practices for Teens
By [posts-author-link] on [date]
February 7, 2016





Rate this resource
LINK TO RESOURCE:
The Mindful Teen: Powerful Skills to Help You Handle Stress One Moment at A Time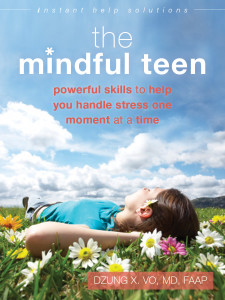 This 2015 guide to mindfulness-based techniques can help teens learn to stay calm in stressful situations such as taking a test, dealing with parents, dating, or navigating drama with friends.
Part 1 serves as a "how-to" manual for core mindfulness practices like mindful breathing, sitting meditation, and handling difficult thoughts. Part 2 explores the use of mindfulness to handle stress in specific situations. Part 3 details how to sustain a mindfulness practice in your life. Guided meditations are included through downloadable mindfulness audio recordings.
Vo, D. X. (2015). The mindful teen: Powerful skills to help you handle stress one moment at a time. Oakland, CA: New Harbinger Publications.
Related Resources
In this 2011, illustrated book, children explore the meaning of mindfulness and achieving "true happiness"…

This article, published on the Greater Good website in August 2014, provides some challenges,…

Mindfuleducation.org is a website created by the Association for Mindfulness in Education (AME), which serves…
Read More | [comments]