A Children's Picture Book about Hope, Healing and Compassion
By [posts-author-link] on [date]
December 21, 2019





Rate this resource
LINK TO RESOURCE:
How to Heal a Broken Wing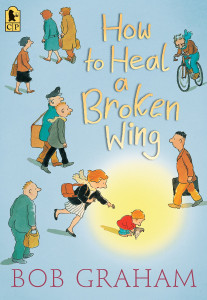 How to Heal a Broken Wing, written and illustrated by Bob Graham in 2017, is a 40-page children's picture book. The story revolves around a boy that encounters a bird with a broken wing and demonstrates how kindness, rest and hope can help the healing process. The sparse use of words and careful illustrations allow for the mains themes of the story, compassion, hope and healing, to be expanded on in classroom setting.
For example, educators may read How to Heal a Broken Wing to young students to start a conversation about kindness, and the power of compassion to help others feel better. The recommended age for the book from the publisher is ages 3 to 7 years old, making it a great fit for Kindergarten and Grade 1 classrooms.
Graham, B. (2008). How to heal a broken wing (1st U.S. ed.). Cambridge, Mass: Candlewick Press
Related Resources
Dr. Thomas Lickona's book "Educating for Character" presents a 12-point program to teach students about…

Our Friendship Rules, written by Peggy Moss, is a story about Alexandra, who betrays her…

The book "Bullying in Schools" draws from Ken Rigby's research that examined the responses of…
Read More | [comments]