Comparing different approaches to addressing cases of bullying
By [posts-author-link] on [date]
July 13, 2015





Rate this resource
LINK TO RESOURCE:
Bullying Interventions in Schools: Six Basic Approaches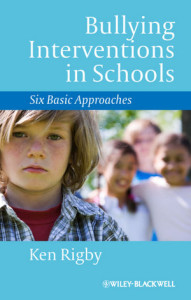 Bullying Interventions in Schools, authored by Dr. Ken Rigby, a renowned scholar in school bullying, is an examination of six bullying intervention methods that engage directly with actual cases of bullying. First published in 2010, the book provides a detailed understanding of the following six approaches to bullying: the traditional disciplinary approach; strengthening the victim; mediation; restorative practice; the support group method; and the method of shared concern. The background to each method is provided, along with a description of what it looks like in practice, and a critical examination of its strengths and weaknesses, in particular when applied to different kinds of bullying in schools.
The book also provides some guidance on how to choose an appropriate method for the school, with the caveat that different interventions are needed for different kinds of bullying episodes, that the methods are not all mutually exclusive, and that sometimes combinations of these methods, together with interventions that target the wider community, are needed to address the problem.
Citation: Rigby, K. (2010). Bullying interventions in schools: Six basic approaches. Camberwell, Vic: ACER Press.
Related Resources
The Accredited Schools Online Bullying Awareness Guidebook brings awareness to different types of bullying and…

A simply and beautifully illustrated children's picture book, "One" is a story about bullying that…

The Anti-Bullying Handbook, written by Dr. Keith Sullivan in New Zealand, provides a comprehensive overview…
Read More | [comments]