Facilitator-led self-management development for Gr 6-8: Responding in Peaceful and Positive Ways
By [posts-author-link] on [date]
February 18, 2019





Rate this resource
LINK TO RESOURCE:
Responding in Peaceful and Positive Ways (RiPP)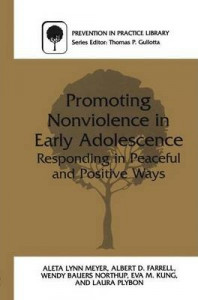 Responding in Peaceful and Positive Ways (RiPP) is a program for Gr 6-8 students. With a focus on social-problem solving and conflict resolution, 16 sessions are available for each grade level that can be incorporated weekly during social studies, health, or science classes. Lessons are implemented by a RiPP program facilitator, not the teacher. Each grade learns different skills to scaffold their learning, including an understanding of non-violent options for conflict resolution (Gr 6), resolving conflicts in friendship in preparation for resolving conflicts in the community (Gr 7), and skills to prepare for high school life.
This program was used and tested in a US setting where 65% of students qualified for reduced or free lunches. Evaluations showed that the participants of the program reported less drug use, fewer interpersonal problems, victimization, and behavioural problems. Participants also reported higher life satisfaction.
Although the RiPP facilitator could implement the program throughout a school, RiPP's program structure is reported to be better for smaller groups than a large-scale organization. A 3-day training is required for facilitators working with Grade 6 students, and a half day training is required for Grade 7 and 8 educators.  Details on how to become a RiPP program facilitator are available here.
Farrell, A. D., Valois, R. F., Meyer, A. L., & Tidwell, R. P. (2003). Impact of the RIPP violence prevention program on rural middle school students. Journal of Primary Prevention, 24(2), 143-167
Farrell, A. D., Valois, R. F., & Meyer, A. L. (2002). Evaluation of the RIPP-6 violence prevention program at a rural middle school. American Journal of Health Education, 33(3), 167-172.
Related Resources
The Classroom Dinosaur Curriculum is a research-based program designed to improve social skills, emotional regulation,…

We Have Skills is a video-based social skills program for Grades K-3, developed by IRIS…
Read More | [comments]