Rethinking discipline practices? Try reading, "It's all about We".
By [posts-author-link] on [date]
February 18, 2019





Rate this resource
LINK TO RESOURCE:
It's all about We: Rethinking Discipline through Restitution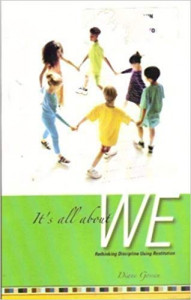 It's all about We is a book written by Dianne Gossen that explores an alternative approach to discipline, called "restitution". Restitution is founded on the concept that humans are motivated by four basic needs, outlined by Gossen as belonging, power, freedom, and fun. One of the goals of restitution is to teach children and youth to become self-aware regarding the needs of self and others. Restitution emphasizes relationships instead of rules, and Gossen offers strategies to support children and youth develop self-discipline and conflict resolution skills; strategies include creating social contracts, defining clear expectations and boundaries ("bottom-lines"), and developing restitution practices that satisfy the needs of self and others.
Related Resources
Better Than Carrots or Sticks, written by educators Dominique Smith, Douglas Fisher, and Nancy Frey,…

In this 2011, illustrated book, children explore the meaning of mindfulness and achieving "true happiness"…

The Mindful Child, written by Susan Kaiser Greenland, provides adults with practical, easy-to-follow techniques and…
Read More | [comments]