10 Simple Techniques for Managing Anxiety
By [posts-author-link] on [date]
August 3, 2017





Rate this resource
LINK TO RESOURCE:
The 10 Best-Ever Anxiety Management Techniques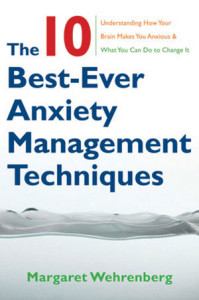 This book, authored by Dr. Margaret Wehrenberg, a licensed psychologist in Missouri, USA, offers readers practical strategies to manage anxiety. Based on evidence from brain research, readers will learn what is happening at a neurological level to cause feelings of anxiety, as well as science-based behavioural and cognitive strategies that have been proven to be effective at helping individuals manage those feelings and obtain greater feelings of control over their emotions. A detailed rationale and step-by-step instructions are provided for each technique, which include diaphragmatic breathing, self-talk, mindfulness, muscle relaxation, and "plan-to-panic" strategies. This book is designed to help individuals who struggle with anxiety to "retrain" their brain so that they can conquer stress and anxiety and live happier and more productive lives.
Wehrenberg, M. (2008). The 10 best-ever anxiety management techniques: Understanding how your brain makes you anxious & what you can do to change it. New York: Norton.
Related Resources
AnxietyCanada (formerly known as AnxietyBC), established in 1999, is a non-profit organization that works to raise…

MindShift is a free, downloadable app for iPhone, iPad and android devices that is designed…
Read More | [comments]