99 Activities and Greetings for Livening up Morning Meetings
By [posts-author-link] on [date]
December 21, 2019





Rate this resource
LINK TO RESOURCE:
99 Activities and Greetings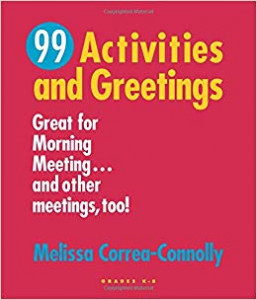 99 Activities and Greetings is a book by US-based school teacher Melissa Correa-Connolly. This book offers busy elementary and middle school teachers a variety of lively and engaging activities to start their classrooms' Morning Meetings.
The book includes activities, games, and greetings that teachers can use to help students apply self-regulatory, problem solving, and cooperative skills while also practicing reading and arithmetic. Appropriate grade level and specific skills targeted are included in the description of each activity in the book.
Correa-Connolly, M. (2004). 99 Activities and Greetings. Turner Falls, MA: Center for Responsive Schools
Related Resources
Published in 2004, this book outlines a 6-step program that engages the intellectual, emotional, and…

Published in 1996, this resource book for teachers, parents, and caregivers is about living successfully,…

Published originally in 1987, this book outlines how different goal structures - competitive, individualistic, and…
Read More | [comments]