Activities, Discussions, and Assignments for Middle School Emotional Literacy
By [posts-author-link] on [date]
February 7, 2016





Rate this resource
LINK TO RESOURCE:
Emotional Literacy in the Middle School: A 6-Step Program to Promote Social, Emotional, & Academic Learning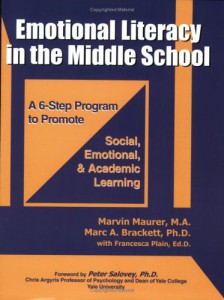 Published in 2004, this book outlines a 6-step program that engages the intellectual, emotional, and social framework of the individual to develop self- and social-awareness, acquisition of a diverse vocabulary to identify and express emotional experiences, understand the relationships between thoughts, feelings, and actions, and share and communicate thoughts and feelings with others. Recommended for grade 5-8 students, it can be used as a stand-alone program or incorporated into other lessons in other content areas. Activities include self-reflection, analysis of academic material and current events, classroom discussions, interaction with family members, artistic designs, and creating writing assignments.
Maurer, M., Brackett, M. A., & Plain, F. (2004). Emotional literacy in the middle school: A 6-step program to promote social emotional and academic learning. Port Chester, NY: National Professional Resources Inc./Dude Publishing.
Related Resources
The Mood Meter app is a tool that helps build emotional awareness and regulation. Based…

This emotions color wheel presents a fun, interactive way to learn about emotions, and is…

The Strengths and Difficulties Questionnaire (SDQ) is a 25-item behavioural screening questionnaire developed by R.…
Read More | [comments]