A Collaborative System for School Improvement
By [posts-author-link] on [date]
February 7, 2016





Rate this resource
LINK TO RESOURCE:
Pyramid of Behaviour Interventions: Seven Keys to a Positive Learning Environment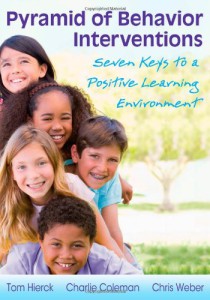 Published in 2011, this book aims to simplify the complexity of school improvement efforts to help schools create a positive learning environment in which both students and staff are inspired to do their best. Outlined is a system in which teachers work collaboratively to support both the learning and the behavioural needs of students. This system includes a three-tiered pyramid of behaviour model and seven keys to creating a positive learning environment, including aspects such as common expectations, positive reinforcement, and data-driven dialogue. Examples of the system's use in real schools are provided, as well as tools for school-wide positive discipline, instructional materials such as a behaviour matrix, behaviour analysis flowcharts, and behaviour contracts.
Hierck, T., Coleman, C., & Weber, C. (2011). Pyramid of behavior interventions: Seven keys to a positive learning environment. Bloomington, IN: Solution Tree Press.
Related Resources
Written by Levin, Nolan, Kerr, Elliot, and Bajovic, the Fourth Canadian Edition of this book…

The Mindful Child, written by Susan Kaiser Greenland, provides adults with practical, easy-to-follow techniques and…

The "Feeling for Little Children" Series, written by Elizabeth Crary & Shari Steelsmith, teaches toddlers…
Read More | [comments]