Classroom Strategies for Fostering Self-Regulation in Students in Pre-K to Grade 6
By [posts-author-link] on [date]
September 1, 2016





Rate this resource
LINK TO RESOURCE:
Calm, Alert and Learning: Classroom Strategies for Self-Regulation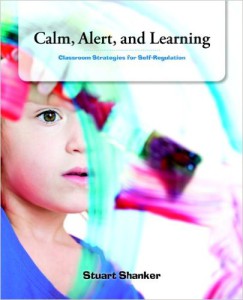 In his 2012 book, Dr. Stuart Shanker, a leading Canadian scholar on self-regulation, offers a range of classroom strategies that teachers can use to nurture the development of optimal self-regulation in students in Pre-K to Grade 6.
Shanker defines optimal self-regulation as being in a calm and alert state and identifies six critical elements for achieving this state, with each chapter dedicated to strategies focused on one of the five domains of self-regulation (i.e., biological, emotional, cognitive, social, and prosocial). Chapters are aimed at arming teachers with tools to help their students to up-regulate (increase alertness) or down-regulate (calm down) to achieve optimal arousal for learning.
Shanker uses examples derived from his work with both teachers and students to illustrate activities and briefly highlights the science behind self-regulation to provide context for suggested approaches. The book also includes information and activities adapted from a number of programs targeting self-regulation and relevant skills in children, particularly Canadian resources. A companion website provides additional resources for parents and professionals.
Shanker, S. G. (2012). Calm, Alert and Learning: Classroom strategies for self-regulation. Toronto: Pearson.
Related Resources
A convincing TED talk by Diana Laufenberg, a high school social studies teacher who believes…

Institute of Play (USA) aims to utilize games to support education and as engaging systems…

Published in 1991, this book aims includes ideas and strategies for fostering positive relationships, with…
Read More | [comments]