Mindfulness Exercises for Parents and Their Children
By [posts-author-link] on [date]
February 7, 2016





Rate this resource
LINK TO RESOURCE:
Sitting Still Like a Frog: Mindfulness Exercises for Kids (and Their Parents)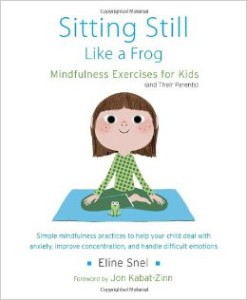 This 2013 book introduces the basics of mindfulness to children and acts as a guide to cultivating a presence of mind, heart, and in the body. Children and their parents are encouraged to explore practices together to help buffer stress and foster life skills through experimentation. Included are meditation practices that aim to help children calm down, fall asleep more easily, alleviate worry, manage anger, and become more focused, patient and aware. There is also a companion audio CD with guided meditation exercises.
Snel, E. (2013). Sitting still like a frog: Mindfulness exercises for kids (and their parents). Boston, MA: Shambhala Publications.
Related Resources
The Inner Kids Program is developed by Susan Kaiser Greenland, author of "The Mindful Child".…

The Mindful Awareness Research Center at the University of California, Los Angeles  aims to foster…

In this 2011, illustrated book, children explore the meaning of mindfulness and achieving "true happiness"…
Read More | [comments]