Techniques for building emotional intelligence
By [posts-author-link] on [date]
August 31, 2016





Rate this resource
LINK TO RESOURCE:
Building Emotional Intelligence – Techniques to Cultivate Inner Strength in Children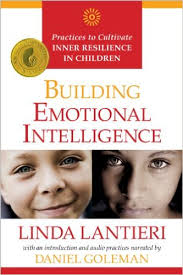 Building Emotional Intelligence: Techniques to Cultivate Inner Strength in Children, written by Linda Lantieri and Daniel Goleman in 2008, provides parents, teachers, and caregivers with practical, easy-to-follow activities for teaching children how to calm the body and focus the mind. Accompanied by a CD of step-by-step practices, this resource offers targeted exercises for various age groups (5 to 7, 8 to 11, and 12+ years) in areas such as mindfulness and managing difficult emotions. With the aim of strengthening children's coping skills and cultivating inner resilience to sustain them throughout current and future challenges, these techniques have been praised by leading researchers such as Jon Kabat-Zinn, as well as by school administrators and parents.
Linda Lantieri has worked for the past 40 years in various educational roles; currently, she leads the Inner Resilience program (www.innerresilience-tidescenter.org) in New York City. Both Linda Lantieri and co-author Daniel Goleman are founding members of the Collaborative for Academic, Social, and Emotional Learning (CASEL).
Lantieri, L., & Goleman, D. (2008). Building emotional intelligence: Techniques to cultivate inner strength in children. Boulder, CO: Sounds True.
Related Resources
RULER is an evidence-based approach to social and emotional learning developed at the Yale Center…

6 Seconds, founded by Anabel Jensen and Joshua Freeman, is a global network supporting the…

The Ekmans' Atlas of Emotions is an interactive website application that teaches emotional intelligence through…
Read More | [comments]