Applying Trauma-Focused Cognitive Behavioral Therapy (CBT) in School Settings
By [posts-author-link] on [date]
August 1, 2017





Rate this resource
LINK TO RESOURCE:
Trauma-Focused CBT for Children and Adolescents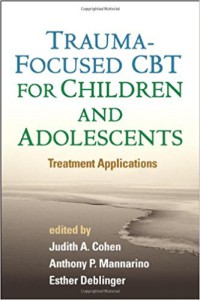 This book, authored by  Dr. Judith Cohen and Dr. Anthony Mannarino, both professors of Psychiatry at Drexel University College of Medicine, and Dr. Esther Deblinger, Professor of Psychiatry at Rowan University School of Osteopathic Medicine, provides an introduction to trauma-focused cognitive behaviour therapy, and includes a specific chapter on how to make use of this approach in school settings. Detailed case examples are provided that illustrate when and how to apply the concepts and strategies discussed in other chapters, such as behavioural management skills for parents and teachers, relaxation and stress management techniques, and cognitive coping and emotional regulation strategies. Designed primarily for school counselors and other mental health professionals, teachers will also find relevant tips that they can apply directly in their classrooms to help support children who have experienced trauma.
Cohen, J., Mannarino, A. & Deblinger, E. (Eds.) (2012). Trauma-focused CBT for children and adolescents. New York: Guildford Press.
Related Resources
The National Child Traumatic Stress Network (NCTSN) is a U.S. organization with a goal to…

This link on understanding Dissociative Identity Disorder (DID) in children (formerly known as Multiple Personality…

This link leads to a PowerPoint presentation by Dr. Nadine Kaslow on Suicidal Behavior in…
Read More | [comments]