Filling buckets: Children's books for teaching kindness
By [posts-author-link] on [date]
September 1, 2016





Rate this resource
LINK TO RESOURCE:
Carol McCloud's Bucket filling book series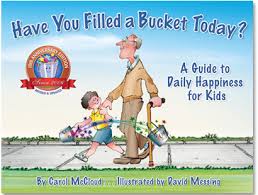 Carol McCloud, a former early childhood educator, is the author of several children's books aimed at teaching kindness toward others. This book series uses a simple analogy of an invisible bucket to symbolize each individual's self-concept and positive emotions. Bucket filling is explained as any act of kindness, helpfulness, respect, or love expressed toward another which, as the author explains, fills one's own bucket too. In the series, rhythmic words and illustrations depict these concepts as well as numerous ways that individuals can be bucket fillers.
Have You Filled a Bucket Today?, the first in the series, has been translated into several languages (including Braille). On the website there are numerous classroom activities and printouts to accompany the stories. Multiple training opportunities and grants for teachers, schools, and non-profit organizations in the Unites States and internationally are offered by Bucket Fillers Inc. and presenters can be also hired for school assemblies.
McCloud, C. & Martin, K. (2009). Fill a bucket: A guide to daily happiness for young children. Northville, MI: Ferne Press. (birth-7 years)
McCloud, C. & Messing, D. (2006, 2015). Have you filled a bucket today? A guide to daily happiness for kids. Bucket fillers, Incorporated. (ages 4-9 years)
McCloud, C. & Weber, P. (2010). Growing up with a bucket full of happiness: Three rules for a happier life. Northville, MI: Nelson Publishing & Marketing. 
(ages 9 years and up)
McCloud, C. & Zimmer, G. (2015). BABY'S BUCKET Book. Bucket fillers, Incorporated. (birth-2 years)
Related Resources
The Mindful Child, written by Susan Kaiser Greenland, provides adults with practical, easy-to-follow techniques and…

Life after war: Education as a healing process for refugee and war-affected children, written by…

Published in 2004, this book outlines a 6-step program that engages the intellectual, emotional, and…
Read More | [comments]