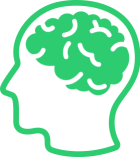 Many mental health disorders first emerge in childhood and adolescence, with an estimated 15-20% of North American children and youth experiencing significant mental health problems. In order to support these students, it is important for adults to foster mental well-being and mental health literacy in their classrooms and schools. This section provides resources for promoting mental health literacy, including learning about mental well-being as well as the mental health disorders that some children and youth faced.
Mental Health Learn Resources

Find out how to SUPPORT children and youth who experience mental health difficulties, by providing appropriate accommodations and by creating safe and accepting learning environments in which they can learn optimally.
The SEL Resource finder is a collaborative effort.
Submit resource suggestions for review.